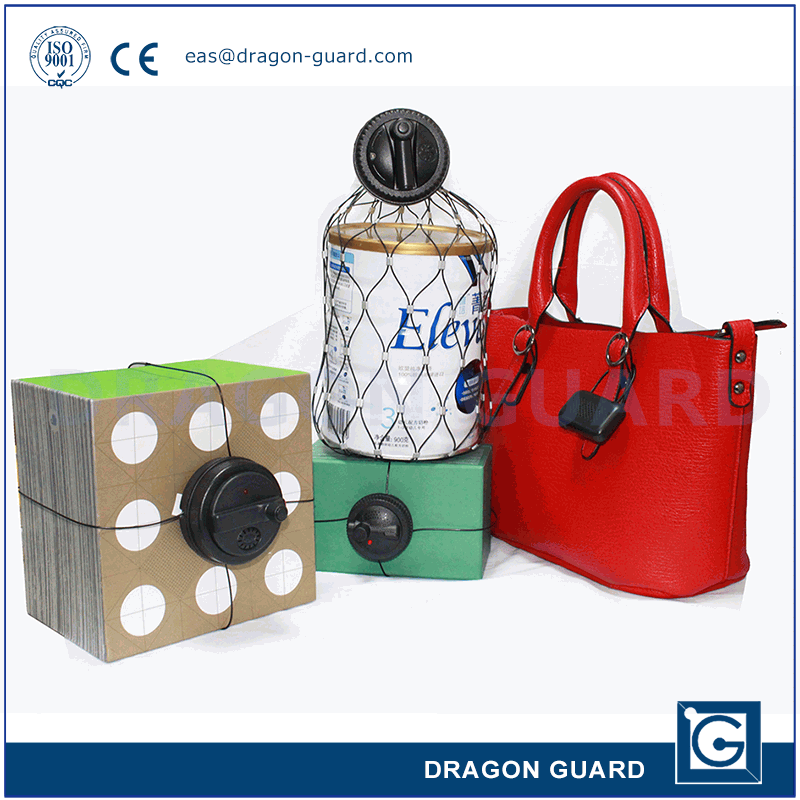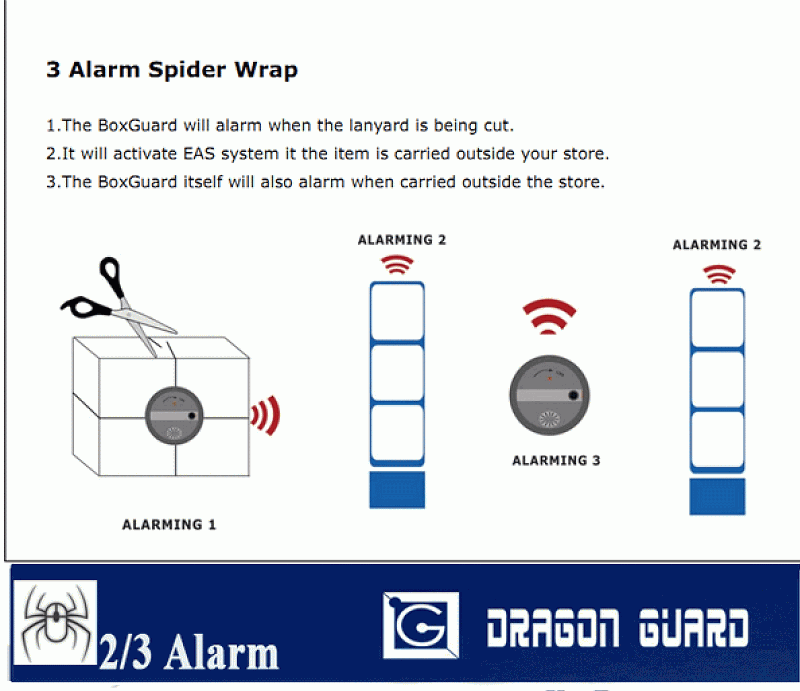 · Brand  : DRAGON GUARD
· Product Name :AM self-alarming spider tag
· Unit Size :72 Dia'*55mm
· Frequency :8.2MHz/58KHz/8.2MHz&58KHz
· Material :New ABS
· Plastic Color :Black, White or Customized
· AM self-alarming spider tag Lock :Magnetic Locking
· Lanyard Length :100cm or Customized AM self-alarming spider tag
· Title :Big Spider Wrap SW004
· Experience :7 years' experience of factory on the EAS market
· Characteristic :Compatible with all 58KHz/8.2MHz system
· MOQ :1pc
· Warranty :2-years
· Samples :Free samples can be provided for your evaluation
· Certificates :ISO9001;CE approved AM self-alarming spider tag
· Print Logo :Any printing we can do for you, just sent the design to us
· Delivery Time :3-10 days after receiving your payment
· AM self-alarming spider tag Application :Used for binding box

Product Description

Having the products locked up in cages or showcase cabinets gave many shops a huge customer issue,
which result in poor representation.Spider Wrap can help you solve that issue. The spider wrap has
4 air craft cable wires that envelope and cinch down tightly around packagedmerchandise. The spider
wrap sounds an alarm when someone tries to cut the cable or tempers with the merchandise.
The benefits the spider wraps provide including:
1) Customers have a better experience as they can freely open displays
2) Spider wrapped products is easier to merchandise on display and presents the product as intended
3) Merchandise remains secured and risk of the theft is controlled
4) Staff is confident that packaged merchandise remains intact and is safe pilfering
5) Sales labour can be efficiently used to sell more product rather than serving locked display
Box wrap can support double /triple alarm operation.
·Double protection box-wrap triggers antenna alarming and it self-alarms if the cable is cut.
·Triple protection triggers antenna alarming, and it self-alarms if the cable is cut and/or when the tag
passes through an exit system.

Full range product protection
· Tag size S can be used for small carton such as perfume, shampoo, etc (max 0.0043CBM).
· Tag size M can be used for medium carton such as electric kettle, etc (max 0.0320CBM).
· Tag size L can be used for large carton such as TV, microwaver, etc (max 0.0720CBM)