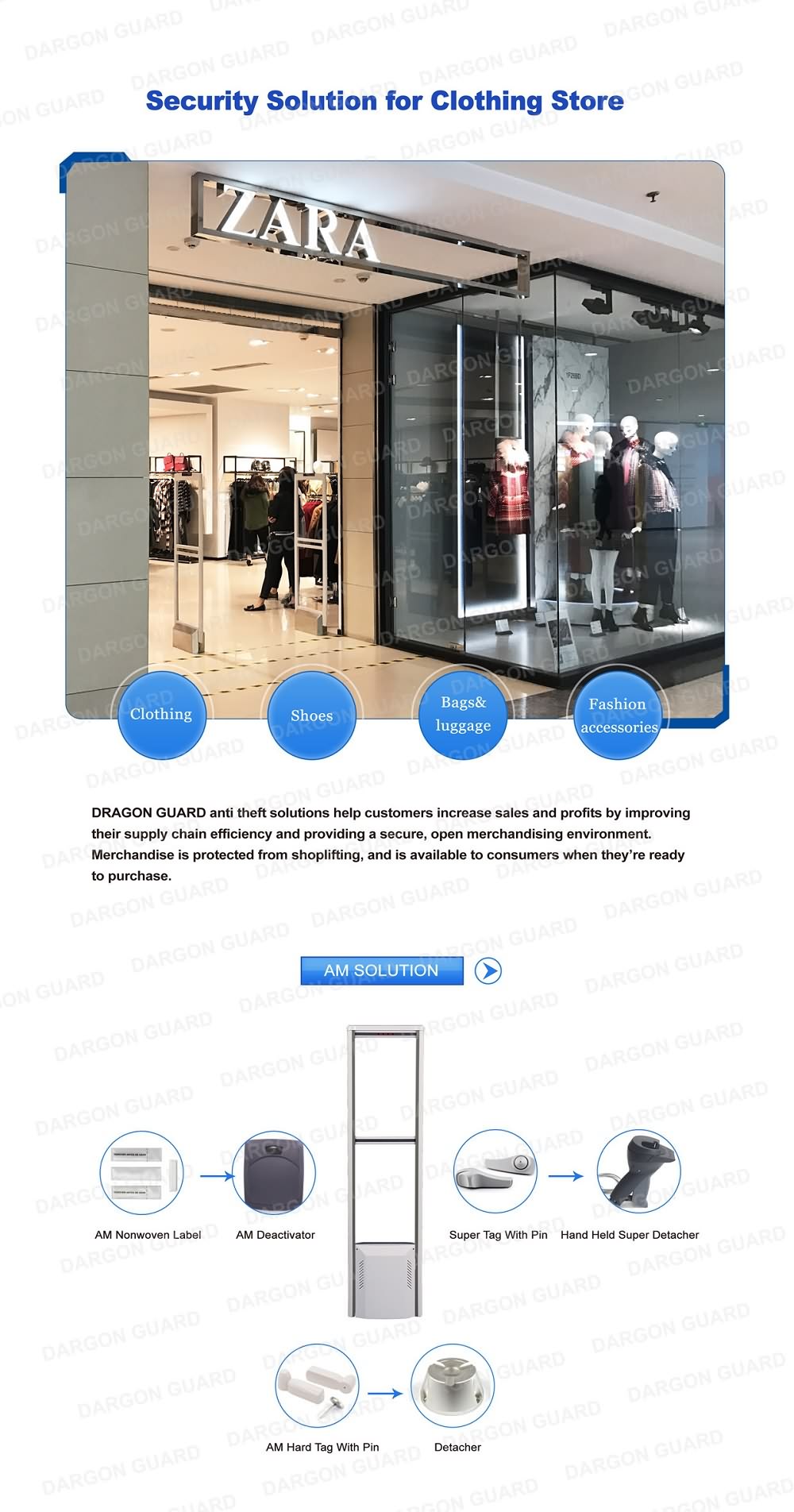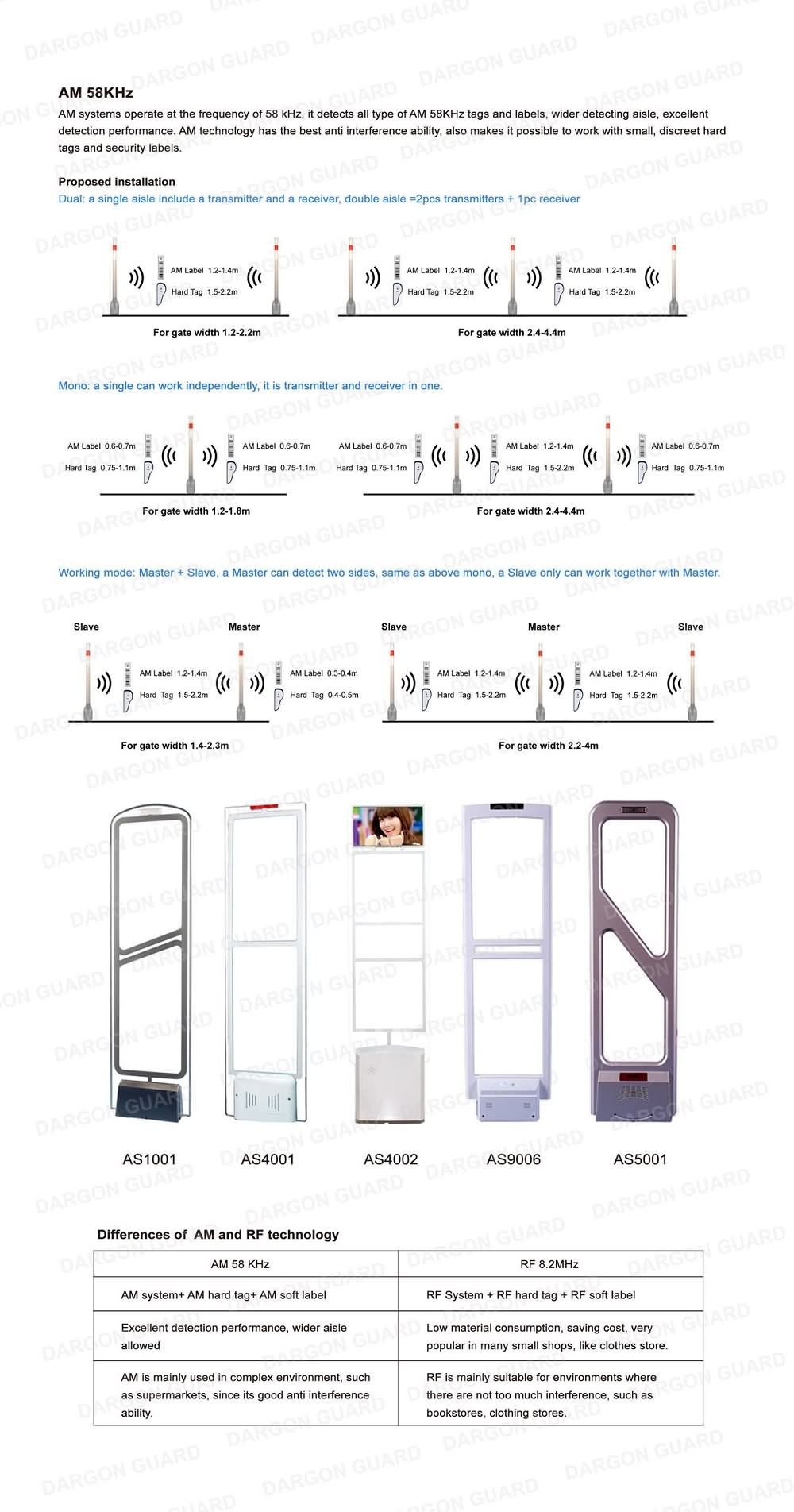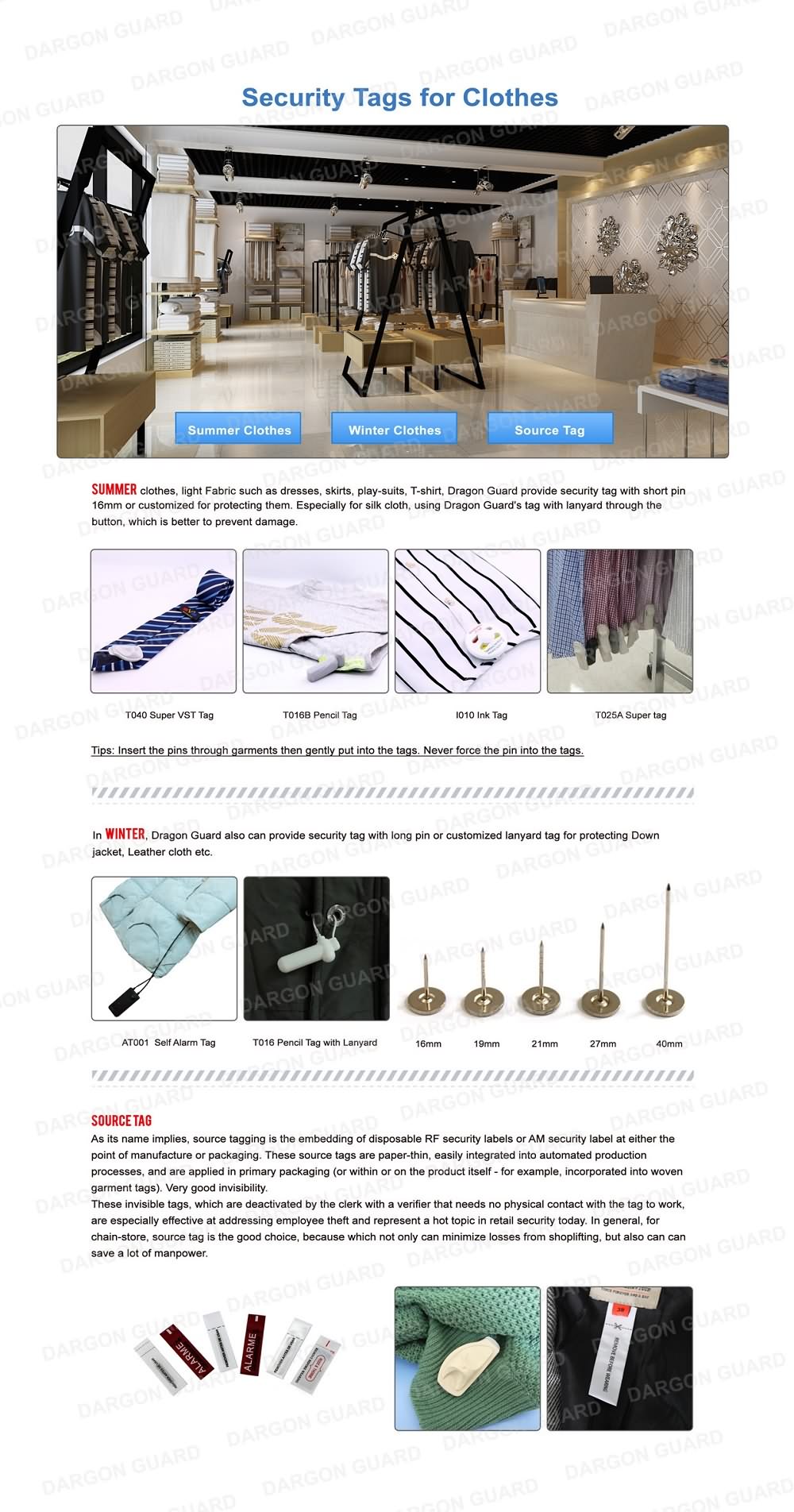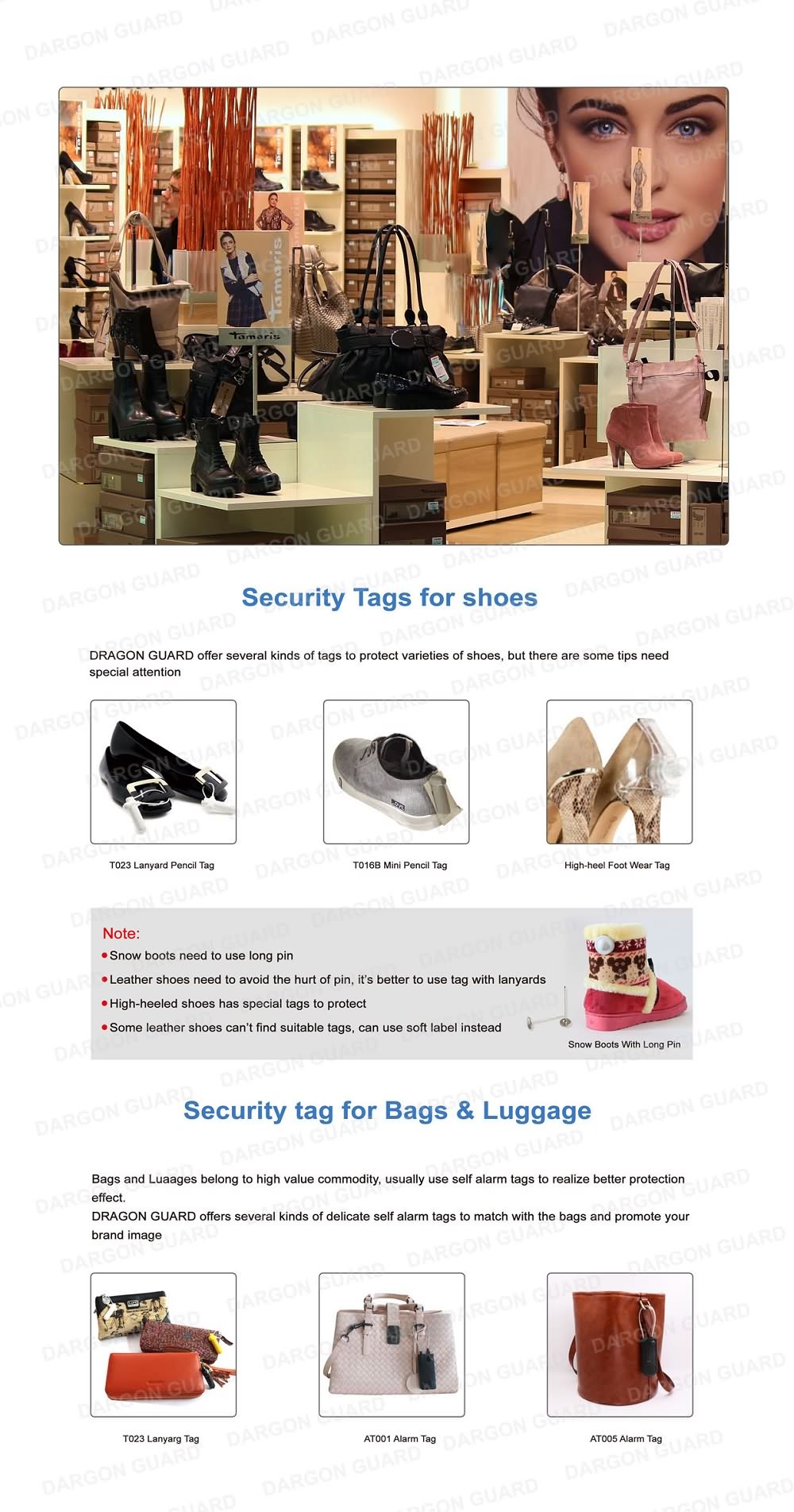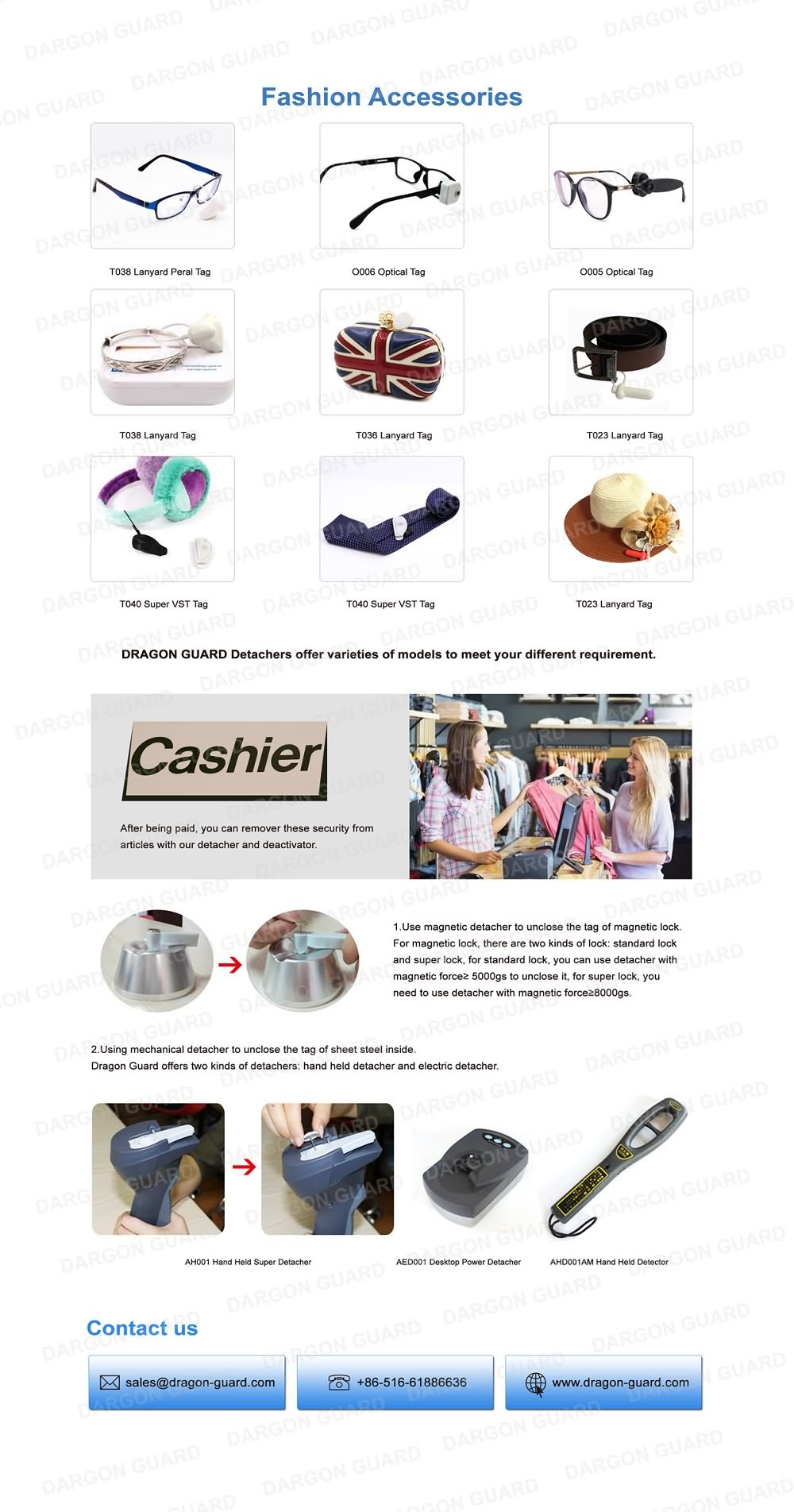 Anti-thief System for Clothes
Preface
Success Stories | Apparel
Loss prevention success in retail apparel with DRAGON GUARD RF EAS
Surveys show that has much as 2.43% of apparel sales are lost to shrinkage. Shoplifting and internal theft erode profits and prevent open merchandising of high-theft, high-margin items. The same surveys show that EAS and CCTV systems can have a positive impact on curbing those losses. In fact, DRAGON GUARD customers report shrink reductions of 25% to 50% and even higher, along with double-digit sales growth, seeing a return on investment in less than a year.
More than 120 major apparel retailers around the world use DRAGON GUARD in all of their stores. DRAGON GUARD offers attractive-and effective-sensors, along with the widest selection of disposable and reusable security tags and source tagging solutions for garments. In fact, only RF-EAS allows use of a garment-integrated source tag for maximum protection of high-ticket apparel, such as outerwear and suit jackets. Apparel retailers also turn to DRAGON GUARD for benefit denial tags, CCTV systems and other loss prevention solutions
The anti-thief status of clothing stores at present:
According to the managing mode many exclusive agencies do not have information desks or deposit lockers, they are always free selecting mode. This mode cannot control customers' belongings. Many things could be stolen easily such as purses, clothes, shoes and hats. For another side, many shops have to employ more salespersons. For instance, in a 350M2 space, there are 15 salespersons with only one cashier. Though this mode can control the stealing to some extent and offer a better service to improve the communication and consumption at the same time, but many things go contrary against our wishes. First of all, although there are many salespersons, each of them has hundreds of things to watch. When the customers become more and more, they always can't take good care of everything at the same time. It's hard for them to prevent stealing then, especially the premeditated group visiting. Increasing selling rate is salesperson's main duty actually, but sometimes they have to prevent stealing first. It will destroy the relationship between customers and salespersons undoubtedly if we always have a suspicious attitude.
The salespersons have to sell clothes and prevent thieves at the same time, but they always cannot take them into account at the same time, that always influence the selling and finally reduce the merchants' profit. In some shops the salespersons are asked to compensate for the losses if stealing happens, that will influence their working passion and may result in movement of persons. This management often obtains negative effect. Fitting room is a blind spot place with high stealing rate where cameras cannot be set and workers cannot watch.
In the long run, the losses caused by stealing depend on your solutions and the degree of importance attached to you. If loss prevention runs up to a specific level, a series of vicious chain reactions would happen, for example, if many loyal customers see others stealing clothes easily and find that always happens, they would feel unfair and bring a psychological luck to join in the stealing gradually. This cycle will expand the stealing groups and spread stealing to different people no matter their levels, ages and qualities. For another side, the salespersons will be punished first after stealing, whose works are hard, salaries are low and personal development space is narrow. After a monthly working, if they cannot obtain their full wages and even if their wages are becoming less and less, they would bring psychological luck, too. If they find stealing is not so difficult and stealing could help them earn much money easily with a frustration and retaliation, they may join in the stealing group gradually. Such a development will increase your internal and external problems. Free selecting shops are designed to meet customers' requirements, to improve shopping circumstances, to comfort customers and to increase consumptions actually. But undue shopping behaviors are inevitable in a place where there is a huge difference between the rich and the poor and where many people lack the shopping ability, especially to those high price and easy touched commodities. High-tech anti-thief system would improve your image. If you use the system to help you manage your shops, it will find the thieves immediately when they pass the channels.
The function of the anti-thief system:
Open-shelf anti-thief system has originated in France . Its history is more than 30 years in the world and about 10 years in China . We have explored and practiced to reduce loss efficiently by anti-thief equipments for many years. Clever merchants will choose the system carefully in such a highly competitive market. We all have to admit a truth like this: if we sold 500,000 RMB commodities it never means we could obtain 500,000 RMB net incomes. If 50,000 commodities are lost or are stolen we would lose 50,000 RMB net incomes. In such a modern commercial environment at present, free selecting markets become more and more. Prosperous market and a large number of customers make many merchants obtain so mach profits. But meanwhile many stealing happens. Setting anti-thief systems has become the preferred method for merchants to prevent stealing and warn the thieves. We can learn from the retail developed countries that the systems could reduce stealing rate and increase profit efficiently. Reducing stealing rate is a direct profit for merchants but there are still many indirect profits: (1) reduce the cost in salespersons and secure guards; (2) improve the shopping atmosphere and avoid watching customers directly by workers and let the salespersons pay more attention to introduce the commodities and increase their shopping desire. That can create a better psychological circumstance to increase your profit. Most of the merchants in foreign countries could get all investing money back within a year with the systems.
The working principle of the RF anti-thief system:
The working principle of the RF anti-thief system is that it will transmit and receive the electromagnetic waves from 7.4MHz to 8.8MHz persistently between the transmitting and receiving antennae and the 8.2MHz interference with 8.2MHz center frequency caused by tags or labels, which will make the system alarm.
Program and Layout
According to your actual situation and requirements we have designed the special program for you.
A. Protecting modes in exits (this is the most popular mode at present):
? . Set detectors at the main exits;
? . Set detacher on the cashier tables;
? . Set the hard tags on the clothes, hats, shoes and other goods;
Workers take the hard tags away by the detachers when the customers are paying for the goods. The customers pass the detecting channels with their clothes. If there are something they haven't paid for then the system will alarm.
Anti-thief equipments selecting: single (double) detecting antennae + detachers (powerful ones & normal ones) + hard tags (there are many kinds in terms of their size and color)
Engineering setting rules:
Spot rules:
1. The special power outlets are set at the cashier and there are earth wires.
Setting form rules:
1. Pre-embedded pipelines: pre-embed 25PVC pipes. Detecting doors and host use dual-core shielded wires.
2. Cut ground: the cutting is behind the shielded wires. Make sure the ground surface and the metal u-shaped groove are in the same level and guarantee the leakage lines and collapsing holes won't appear.
3. Arc metal groove: insure it's clean before sticking on the ground and then fix it and put the groove and the two detecting antennae as the " ? " shape.
Remark: insure the grooves are straight as a beeline and relatively connect the step lines according to 45 degree at the corners.
Training after the setting:
Training aimed at staff:
1. Correct sticking way and attention note about the system.
2. Normal operations of the additional equipments: such as the normal use of the EM deactivator/reactivator or common queations.
3. Normal operations and attention notes of equipments.
4. Troubleshooting of common faults and simple faults.
5. Correct operation after alarm.
Products introduction
RS001
Introduction of RF anti-thief system
The top-grade wireless RF anti-thief system is an excellent intelligent system with crystal appearance which can match the whole design of your shops. This system is popular with supermarkets, clothes and hats and shoes and bags stores, book stores and audio-video stores and other open-shelf retail stores. Our new crystal series are very pretty with excellent configuration that includes import special digital processing chips, intelligent special software control, intelligent special recognition algorithm technology, international synchronous the third generation DSP technology, domestic leading auto gain control (AGC) technology, automatic self-adapting & self-testing technology, special weak alarm signal identifying technology and the mature & reliable multichannel online technology which has higher checking efficiency and lower misreporting rate. Its setting and operation and maintenance are very simple.
The width of the detecting channel:
4cm*4cm soft labels : 90~140cm
Small quadrate hard tags: 90~140cm
Big quadrate hard tags: 90~200cm
System technology parameters
Power: 220VAC/400mA ±10%
Power consumption: <12W
Center frequency: 8.2MHz
Anti-thief soft labels:
• It's an anti-thief medium matched with the RF alarm system
• Use decoder to decode the soft labels by make them short-circuited.
Soft labels decoder
? Decoder is used to decode the soft labels and it is a special assistant equipment for wireless RF system.
? Its checking height is 30cm and any 8.2MHz soft label could be decoded in the checking area.
? Its special decoding and alarming function (sound & light indication) could make you feel the best sense of security.
? Fully digital technology and high-speed signal processing.
Anti-thief hard tags wine & milk lock
? This product with special alarm coils and super strong ABS engineering plastics is firm and durable and it has very high sensitivity.
? This product could be widely used to clothes, shoes & hats, sports things, boxes & bags, drinks, milk and so on.
many styles and sizes, black/gray/milk white or make for your special orders
Hard tag detacher
( prevent internal thieves )
Powerful hard tag detacher
• It's the special equipment used to the hard tags and audio-video locks.
• It's made of whole steels with powerful magnetic cylinder.
• Pretty and firm.
• It's an expert anti-thief lock and can prevent stealing efficiently.